Welcome to Sacred Heart School, Haldwani
Founded in 1988 by Dr. Theophiles Paul and inaugurated by the Retd. Dy. Director of Edn. Late Sri R.C.Tewari. It is a hallmark Institution in the surrounding community. With our school graduates being absorbed directly into the Secondary & Senior Secondary wings, we offer a continum of education from toddlers to teenagers.
ADMISSION OPEN FOR PLAY GROUP CHILDREN AGE 2 ½ + YRS.
Sacred Heart is one of premier school for childcare that prides itself on its vast experience in the provision of quality & innovative early childhood education. School offers a one stop education service that grooms the Physical, Intellectual, Emotional, Social & Language development of the children. We firmly believe in providing quality care for your little kids. Hence Touching Hearts, Molding Lives.
ROLE OF SCHOOL IN SHAPING A CHILD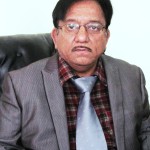 The schools play a vital role in shaping the personality of the students. A child starts learning from the cradle and the process of learning is a life long process. The impact of the parents and family members plays a very important role in the life of a child. The first learning begins from the home. The next learning takes place through the neighbor-hood and friend circle. The impact of School is very important in the development and grooming the personality of a child.
Focused curriculum to perform well in the board exams.
Provide special coaching classes to all slow learners to bring them to required standards.
A wide collection of books on diverse subjects in a well-equipped library for frequent use by students and teaching staff.
Extra cirricular activities to develop the potential in children in arts & crafts and surface innate potential.
We have prioritized spoken and written english for all our students . Special classes for improvement in handwriting and conversation from I to Vth are conducted daily.
A state of the art computer center has been dedicated to the Prep school students. Here opportunities are provided to enable children to benefit through use of interactive education CDs.
A well equipped library offers a wide collection of books for frequent use by Prep. children .
Extra coaching classes are provided for slow learners.